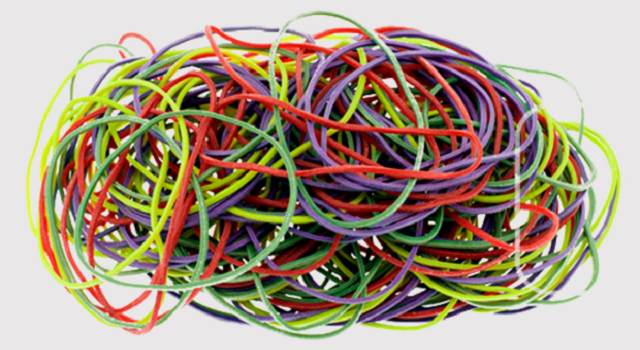 Elastic Band
Elastic Band – An edgy, playful work that fuses jazz, rock, funk, and classical idioms.
Instrumentation: now in 3 "flavors" 1. Sextet (clarinet, string quartet, and percussion); 2. Septet  (clarinet, string quintet, and percussion); 3. Chamber Orchestra  (clarinet, strings, and 2 percussion) – now out on CD at iTunes and Amazon!!
Duration: 16 minutes
Excerpt 1: 
Opening funky, rhythmically driving (mm. 1-27)
"Pure Happenchance" is the "scherzo-dance" movement of Elastic Band. Quirky and fun, it is propelled by a drum ostinato in 6/4 meter and blends hints of Duke Ellington's "Jungle music" and klezmer.
New York Chamber Ensemble
Excerpt 2:



Movement 1, Midpoint calm – wild! (mm. 64-110)
The first movement is a fast and hard-driving fusion of contemporary classical, jazz, and rock music
Speculum Musicae
Excerpt 3:



Movement 1, Coda (mm. 151-179, end)
Speculum Musicae
Instrumentation details:
Clarinet, 2 violins, viola, cello, and percussion* * mar, vib, BD, 3 tom-t (high tom may be SD), 3 cyms (hi-hat, crash, ride),WB,crot
What the critics say:
"…a work of serious fun, which also draws on pop and jazz… [Friedman] has ingeniously transformed popular themes in a chamber setting. He even cops (his admission) Ringo Starr's famous, thudding drum solo from the Beatles' "Abbey Road" and turns it into a motif. The second movement takes on Duke Ellington's "jungle music" of the '20s when the great Sonny Greer sat behind the traps. "
Richard Scheinin, The Mercury News
Premieres (regional, and/or revised versions): 3.8.96, Speculum Musicae, Miller Theatre. 2.6.00, Eberli Ensemble/MATA, 2.16.07, Adorno Ensemble, Santa Clara University 2006 (west coast); Premiere of three-movement version: New York Chamber Ensemble, Cape May Festival, NJ, 6.01.04. Premiere of four-movement version: 1.16.09, Adorno Ensemble (San Francisco); Premiere of chamber orchestra version: 10.02.15, New Orchestra of Washington, Gonda Theatre/Davis Performing Arts Center, Georgetown University, Washington, D.C.; Premiere of septet version: 10.07.17, Inscape Chamber Orchestra, Christ Church Georgetown, Washington, DC. Recording of the New Orchestra of Washington on the Acis label this September 2017!